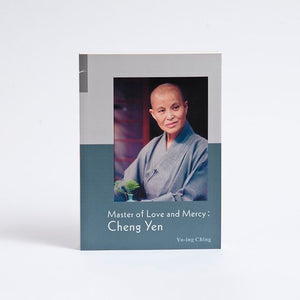 (英)千手佛心 MASTER OF LOVE AND MERCY: CHENG YEN
This book is written by Chinese American author Yu-ing Ching through interviews with Master Cheng Yen, the master's monastic disciples and her foster mother, as well as Tzu Chi's staff, volunteers, and aid recipients. The author engages readers with her thoughtful and intricate writing style, enabling the latter to gain an understanding of Master Cheng Yen's life from childhood to young adulthood, how the sudden passing of her father became an important turning point in her life, and her eventual decision to pursue a monastic life. With her unshakable faith and determination, the Master never wavered in the face of adversity and difficulty. Extending her love for her family to the world, she made a vow to bring relief and aid to the poor and suffering, and to nourish their minds with compassion and wisdom.
The book offers some insight into how a great religious leader and philanthropist who is revered by millions worldwide actively works to accomplish her noble mission of "helping the poor and educating the rich." At the beginning of each chapter and within sections of each chapter, readers will find inspiring quotes from Master Cheng Yen. These timeless words of wisdom not only serve as food for thought, but also offer invaluable guidance.
Contents
Part One : Jing Si Abode
Part Two : Wisdom of the Master
Part Three : Memory of a Mother
Part Four : Gong of Love

這是第一本以英文撰寫有關證嚴上人的書籍,作者雲菁女士以她敏感細膩心思,用流暢的文字,細膩生動的文筆,將受訪者包括證嚴上人、精舍師父、上人的俗家母親、慈濟志工,甚至照顧戶等,敘述情節栩栩如生。讀者透過閱讀不僅得以了解上人年幼、少女階段、父親驟逝,乃至堅定出家的心志,歷經種種艱難始終不退縮。從而了解上人如何從提一家人的小菜籃,到提起天下的菜籃,立下宏願以物質供養貧苦人的身,以慈悲和智慧滋潤其心靈。
一位令千萬人崇仰的宗教家、慈善家及大仁者的成就因緣,從閱讀此書可窺知一二。每章節起始以及段落間,皆引用文中上人的智慧法語,尤其讓人深思反省。
全書共分為四部
第一部 : 靜思精舍
第二部 : 上人的智慧
第三部 : 慈母的回憶
第四部 : 敲響愛心鑼
---
We Also Recommend